Better late than never! LOL Having Randy home is wonderful, though not terribly productive! We seem to hover in the same room as each other, not really accomplishing much, but enjoying each others company (sick, huh?). 🙂 Monday starts our regular routine – back to normal (well, as normal as this crew ever gets!). It's going to be agony getting up at 6am, but I have to do it. I NEED to get back in the studio and get into full production again. Might have to work in brass or copper as I'm completely out of silver! I'll order some this month, but there's no huge rush. I have to head out to White Rock this week and pick up the jewelry from the library display. I don't think they sold anything, but I can hope.
The fish are doing well, three goldfish and a catfish in the living room tank (5 gallon – but we'll get a bigger one later this year). There's a loach in the little one the kids bought me – that fish gets HUGE if the internet is correct (and it usually is!), here's a link – scroll down to nearly the bottom of the page and check out the hand in the tank with the fish! Holy smokes, gonna need a MUCH bigger tank! LOL! and here's my favorite picture from that website!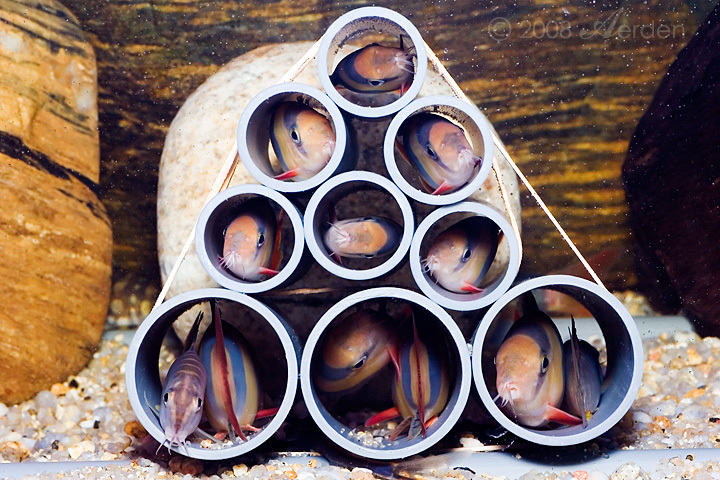 A bunch of clown loaches stacked up like cord wood! LOL
And my lonely little Siamese Fighting fish (called a 'betta') is in the kitchen in a lovely glass vase – he couldn't handle the loach or the goldfish, so it's off to solitary confinement for him. Once things settle down, I'll be getting a proper tank for him – don't worry, he gets regular water changes, fed well, etc. Bettas are perfectly happy living in little tiny jars/vases/containers. They live in little margarine containers for months on end at pet stores before they're bought by someone. Go figure! Anyway, I've done a TON of searching online for bettas. OMG, I am in so much trouble! LOL I thought dh was going to be bad, but look out! I found black bettas, and white bettas, and multi colored bettas. I almost hyperventilated when I saw this guy!


Then I discovered a Canadian betta forum – I'll be ordering some of these fancy fancy bettas from a few of their members in the spring (found out you don't want to buy during the winter as shipping will kill them – go figure!). I guess I'm as bad as dh – impulse control, not a strong suit! LOL
Well, best get off this computer. Just wanted to dash by and say hello before it got too far into the new year!
Oh wait!! I almost forgot – I am hosting a Surface Textures workshop in my home studio on January 31 & February 1, if you're interested, full details are on my website (link to the right). Cheers!